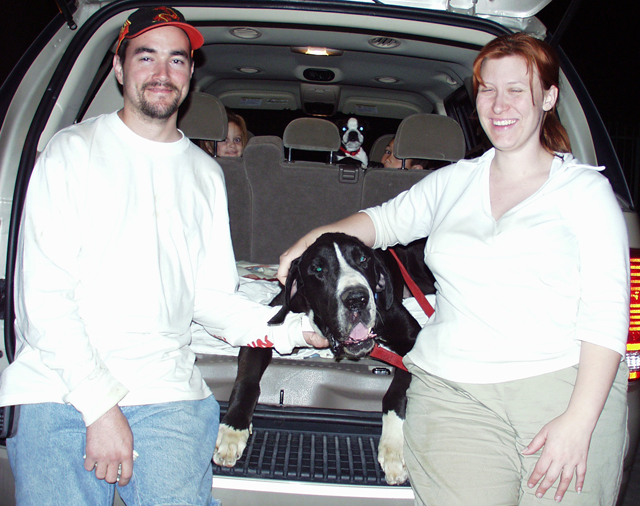 "Luke" (now "Tiergan") gets adopted
Hi Tracy!
Well, Day One and "Luke" is doing wonderful!

We are thinking of renaming him "Donovan" which means 'dark warrior' or "Tiergan" which means 'strong' (because he IS strong!). You can tell he's unsure of his surroundings, at the moment, but he's settling in quickly.
I emailed the general adoptions addy, but figured you might give a quicker response to this address. What was "Snuffy" the Saint's, adoption fee? Just curious- my husband really enjoyed playing with him.
Thank you so much for all of your time last night- I have never seen such a beautiful group of furkids in one area!

We had a ton of fun playing with the dogs and meeting you and Burt.
Hope to get pics to you soon of Luke settling in here in Vegas.
Trish & Jeremy
[Below is a second email from our adopters who were so happy with their adoption of "Luke" (now "Tiergan") that they inquired about adopting another dog from us and were ready to drive back from Las Vegas the next day to adopt him]

Hi Tracy and Burt,
I was wondering about "Snuffaluffagus" whom we saw yesterday. If you could let me know his adoption fee, I'd be very grateful. My husband was quite enamored with him (the young Saint Bernard boy).
Thanks!

Tricia Perkins
"Luke" (now "Tiergan") gets rescued


"Luke"/"Tiergan" was in a shelter in Northern California .

Just about every Great Dane Rescue group in Northern California was called by this shelter and not one even responded to take him.

Finally, the shelter called Gentle Giants in Southern California. The shelter described his condition at the time he was turned in as having a leg that had limited functionality though he did use it and it did help him get around.

Gentle Giants was the only group who would take him out of the shelter.

Gentle Giants transports Great Danes from Northern California at a high cost regularly because no other Northern CA rescues will take them, just like no other rescue was willing to take "Luke"/"Tiergan" out of the shelter.

Because "Luke" was very ill with kennel cough and near pneumonia at the time, he was waived for surgery, per California law, by the veterinarian at the shelter.

Gentle Giants sent a driver to get "Luke," and he was brought back to Gentle Giants where he was immediately examined by several vets, heartworm tested, etc. One of our expert vets was voted "BEST Veterinarian in the Inland Empire for 2004."

"Luke" then spent a month at Gentle Giants being cared for and treated while he recovered.

Further exams were done and "Luke"/"Tiergan" spent a week to ten days at the hospital for an orthopedic evaluation regarding his leg. It was determined that sometimes the foot could find the ground, sometimes it couldn't, but it was altogether a better prognosis for "Luke" to keep his leg.

After "Luke" completely recovered, he was neutered and reexamined, and it was the final decision of the vets involved that "Luke"/"Tiergan" would be better off keeping his leg than having it removed.

He was healthy and happy, and was given a little shoe to protect his toes for those times the nerves could not perceive the ground and they dragged ever so slightly.

He was so capable with his leg that he was able to use it to stand up on both legs and put his paws on people's shoulders. He jumped around and played like a puppy.

He was adopted from Gentle Giants and was in perfect health and looking and feeling happy and healthy.

Gentle Giants is the only rescue that came through to save him, and we were prepared to pay whatever was necessary to help him. And we did have significant expenses!

When we see them this happy with their adoptive families, nothing else matters!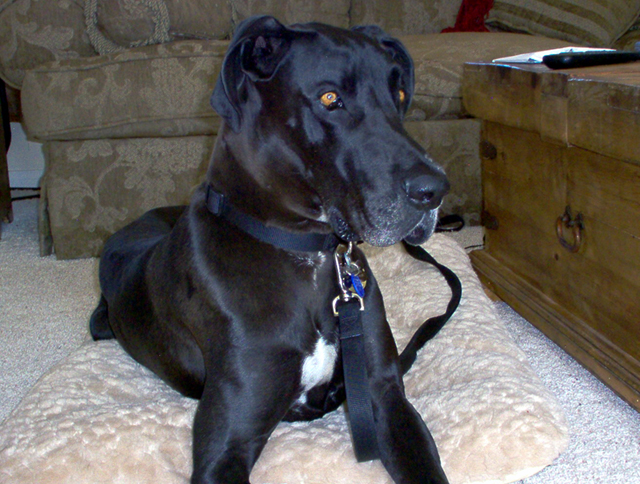 "Karma" lounges on her pillow
Dear Burt and Tracy,
As promised, I have attached a photo of "Karma."

Oh, and I have a little story for you.
A couple of nights ago Seth and I took her outside for her last tinkle before bedtime.

We're sitting out in our back yard and I say to "Karma" . . . "Go get you ball."

So, she runs over to the area where her ball is located.

Anyway, all of a sudden, she is crazy woman.

Running around in one little area, bouncing off the wall of the yard, trampling my flowers and shrubs.

I'm thinking "Oh, My God!" she is having a seizure or something.

Then all of a sudden she is coming towards me (bear in mind it's dark outside), I look and she has a baby possum in her mouth.

Needless to say, I freaked out.

I just knew she was going to drop that thing in my lap the way she drops her ball when she wants to play.

Anyway, it took me about half a second to be standing on the patio chair saying "Release! Release!"

She still doesn't have that command mastered.

LOL!

She keeps trying to give me her little gift as I climb onto the table and hang onto the umbrella poll.

She finally drops it and walks away for second.

Seth grabs her, and I take that window of opportunity to head for the door.

I pull her inside the house with me and leave my husband outside to deal with what we thought was a dead possum.

We looked away from the little critter for a couple of seconds, and when we looked back, it was gone (playing possum, no doubt).

Anyway, "Karma" is okay. and I know she didn't break the skin of the possum.

That was a relief for me because I was afraid of diseases.

I made her drink lots of water before bed and have been watching her closely.
Anyhow, here is a photo and we'll see you guys on Labor Day weekend.

Better watch out for those squirrels when she comes to visit you.

LOL!
Take Care,
Teresa, Seth, "Karma" "Harley" and "Gizmo"



Hi Tracy and Burt!

I am waiting for our cab to pick us up for the airport and was paying a visit to your site.

I saw "Karma's" picture on page 5 of the Great Danes section!

I started crying because I already miss her so much.

As I said earlier, our house is empty without her here.

It warmed the cockles of my heart to see her on your website.

LOL! I know I'm silly!

I never thought I would find a companion that would do what she has done to our hearts in the short time we have had her in our lives.

Once again, thank you both so much for what you do!

It's truly a wonderful thing!

Take care and we will see you next week!

Teresa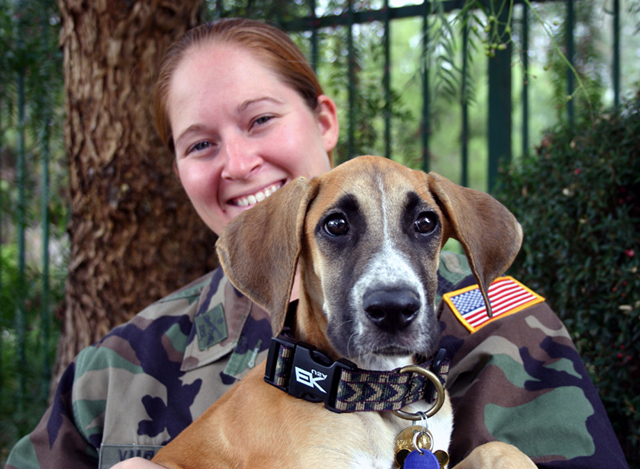 Fawn Great Dane Puppy "Lowell" and his new Mom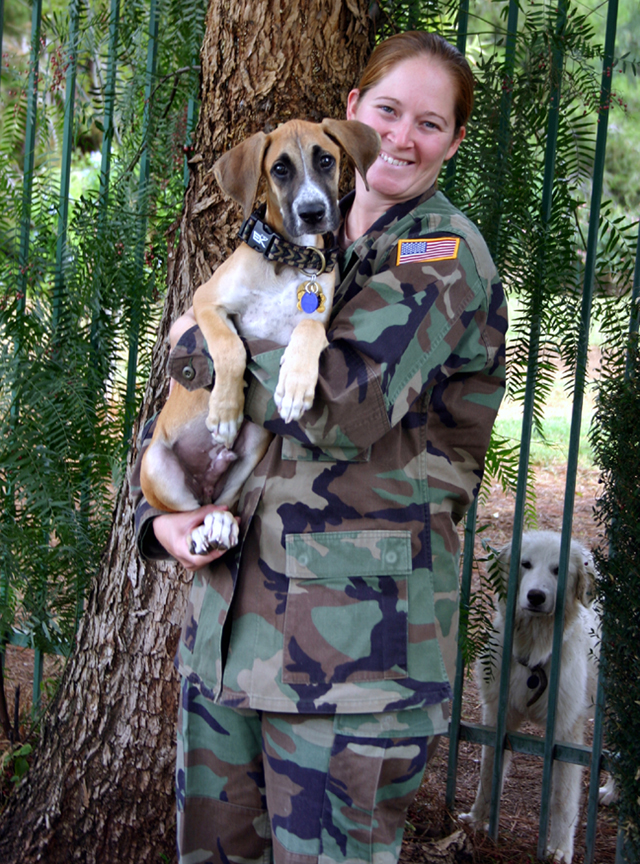 "Lowell" and his new Mom, Tennille, are joined by
"Farrah" a 16 week old Great Pyrenees Puppy


Hey guys!

"Lowell" and I are doing great!

Sorry, I haven't gotten to do too much as far as sending photos, but I will attach a few.

"Lowell" had a great time the last few weeks playing army out in the field.

He has a blast chasing after soldiers all day long.

We've done a little traveling around the area and down to San Diego.

He loved the beach, doesn't care too much for water, though.

He has gained about 14 lbs and is growing fast.

He had his first visit to the vet here on post and did really well.

Thanks.

Tennille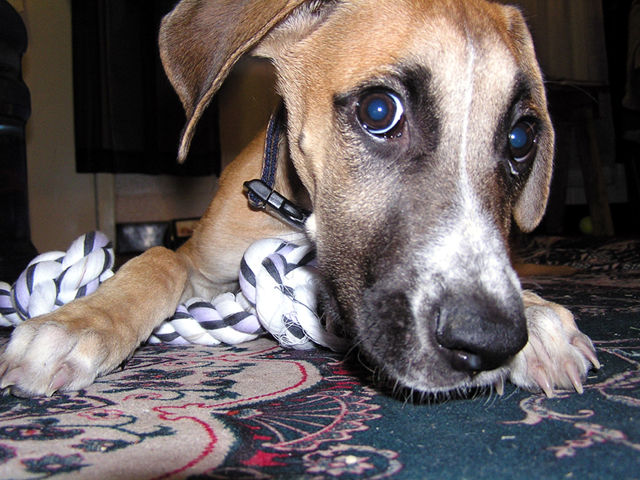 "Lowell" invites you to play with him and his rope toy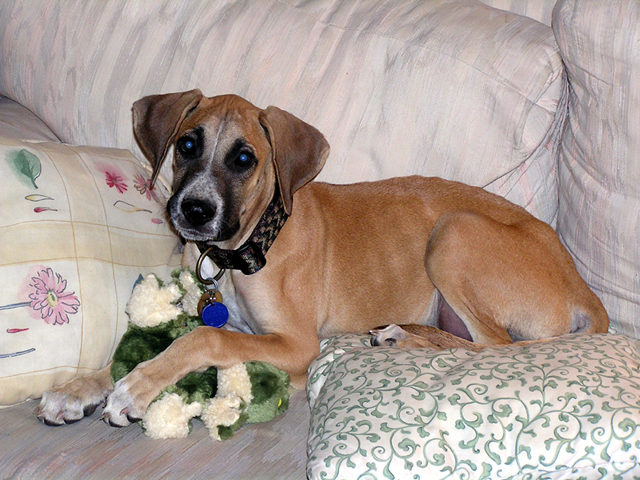 "Lowell" lounges on 'his' comfy couch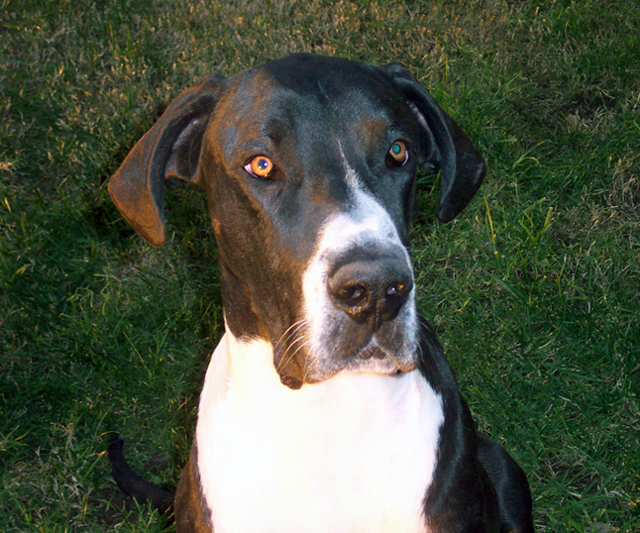 "Roscoe" watches the sunset
Hey Tracy,

First, I love the new website.

Very nicely done.

I also noticed that you have a couple of photos of "Roscoe" on there.

Thank you again for bringing him into our lives.

He is incredibly sweet.

I have sent along a new photo, so you can see how he has changed since we have had him.

Also, Nancy and I are heading out to Las Vegas on January 16th thru the 19th.

Let me know if you need us to pick up a dog out there when we go.

We would be more than happy to do that for you.

Hope all is well with you and your family.

Have a great New Year, and hope to talk to you soon.
Sincerely,
Mike Schuman
P.S. If you happen to have any blue puppies available, I might be able to convince Nancy to let me get another baby. Let me know so I can start working on her.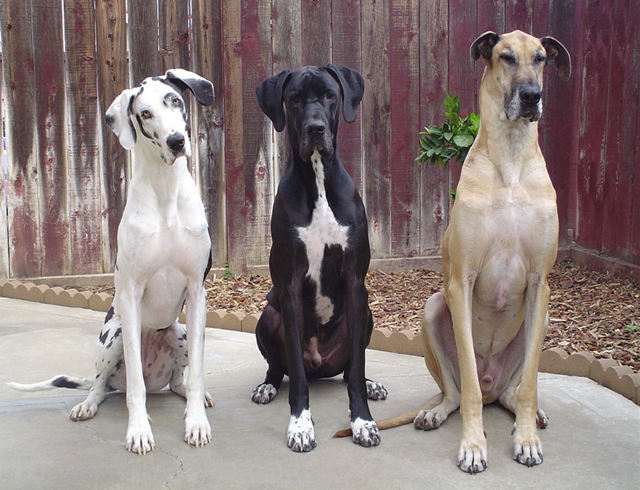 "Isis" "Wagner" and "Hamlet" sit at attention
and anxiously wait to play

Tracy,

I was sending photos of the 'granddogs' to my mother-in-law and thought you might like to see them, too.

Best,

Greg

"Hamlet" "Isis" and "Wagner" are wondering why they
have to pose for photos when its obviously time to play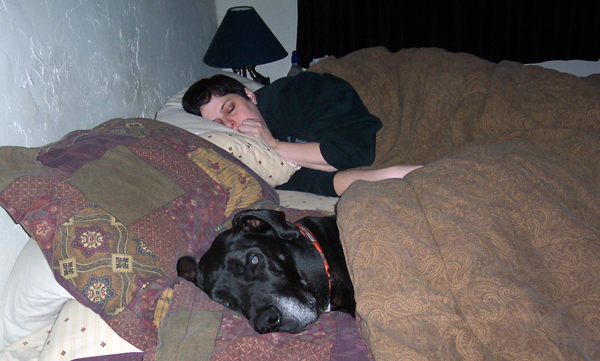 Jessica and "Trouble" sleeping
(
Well, "Trouble" is having a little 'trouble' sleeping
)


Tracy:

We adopted "Hercules" from you nearly three years ago.

His name is now "Trouble."

We adore him!

I wanted to send you a recent photo of Trouble and I sleeping.

Have a wonderful New Year!

Jessica Brumbly and Jeremy Johnson