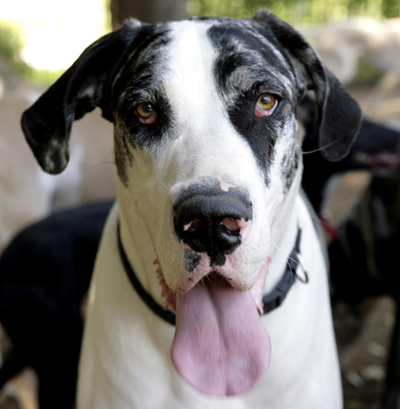 Great Danes: Great Danes are giant, powerful dogs. Square in body, but females may be slightly longer than tall. Their long heads are rectangular in shape. Their muzzles are deep. Their noses are black, blue/black on blue Danes or black spotted on the harlequins. Their dark, deep-set eyes are medium in size. Their medium sized ears are set high and either cropped or left natural. If left in their natural state, they are folded forward hanging close to the cheek. When cropped they stand erect and are large in proportion to the rest of the head. Note: cropping ears is illegal in most parts of Europe. Their well arched necks are set-high, firm and muscular. Their front legs are perfectly straight. Their feet are round with dark toenails. Their tails are set high, thicker at the base and tapering to a point. Dewclaws are sometimes removed. Their coats are short and thick. Colors come in brindle, fawn, black, blue, mantle harlequin and sometimes merle. Although not a recognized color, chocolate does occur.

Great Danes have wonderful dispositions, often called "gentle giants." Charming and affectionate, they are playful and patient with children. They love everyone and need to be around people. Great Danes do not bark much and only become aggressive when the circumstances require it. They are reliable, trustworthy and dependable. Courageous and loyal, they are good watchdogs. Great Danes do not stay little for long

Great Dane are a very old breed, and are known as the "Apollo of all Dogs." Dogs resembling the Great Dane have appeared on Greek money dating back to 36 B.C. There are also drawings of these dogs on Egyptian monuments from roughly 3000 B.C. The earliest writings of dogs that sounded like Great Danes were in Chinese literature dating back to 1121 B.C. In 407 A.D. German Gaul and part of Italy and Spain were invaded by an Asiatic people (the Alans) who brought with them powerful mastiff-like dogs. They were admired for their ability to bring down bear and wild boar. Great Danes are a combination of three breeds: English Mastiffs, which give them their tremendous chests and bulk; Irish Wolfhounds, which give them their great height and length; and Greyhounds, which give them a contoured sleekness. Besides being used as a hunter, they were also used as estate guard dogs. Despite the fact that they are called Danes in English, they have nothing to do with Denmark. The Great Dane breed was recognized in 1887. Some of the Great Dane's talents are tracking, watchdog and companionship.
The Great Dane Size:
Height: Dogs 30-40+ inches
Weight: Dogs 120-250+ lbs.