We are the largest GIANT BREED dog rescue in the world!
WE RESCUE AND ADOPT 45 DIFFERENT BREEDS!
Gentle Giants Rescue and Adoptions rescues as many as one thousand or more dogs
and puppies each year from countless animal shelters and individuals all across America,
and even from some foreign countries. We rescue all of
our many breeds as well as
"Unique Combinations" of our breeds from wherever they are in need!
We are a TRUE rescue! We ONLY rescue! We NEVER breed! We save EVERY life!
We believe that breeding should be strictly regulated when dogs are dying every day in shelters!
Please read about our support for
The California Healthy Pets Act
and
how every concerned moral
citizen can help support the new laws regulating breeding, so that by working together,
we can strive for a world where every animal will have a safe, loving home for life!
See how we can all be
Canine Crusader Superheroes
if we help animals in need!
Actress Vanessa Williams with her family and friend, Los Angeles
Laker star, Rick Fox, adopt our Great Dane puppy "Willa"
News Flash!
s
s
Watch us on The Today Show


(click on play button under video below)





Click on box above right to play full screen



Gentle Giants Video Tips to Help Your Dog Live a Much Longer, Healthier, Happier Life!
s
Our Daughter Has Had Her Best Friend Living With Her For More Than 20 Years!
Your Dog Can Live With You As Many As 17-20 Years Like Ours Are Living With Us!

We Have All Dog Breeds Living Many Years Longer!
Your Dog Can Live Years Longer Eating Gentle Giants!

The Average Life Span of Great Danes Is 7-9 Years!
We've Doubled Their Life Spans!
You Can Have Your Dog With You To Love And Enjoy For Many Years Longer!

Feed Your Dog All Natural Gentle Giants and Follow Our Feeding and Care Program!
* * * * *
Gentle Giants New Mini Informercial about
Gentle Giants Rescue and Adoptions and Gentle Giants Dog Food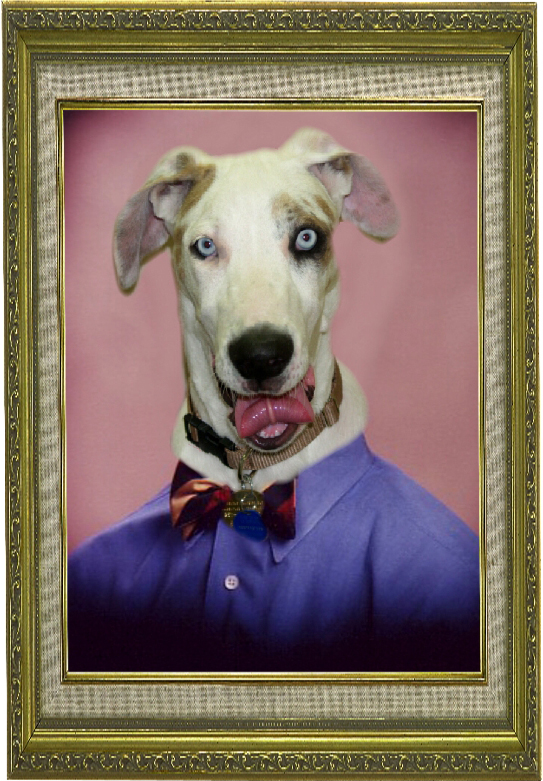 "Trajan's" formal portrait
Hello Tracy and Burt,
We are having such a great time with "Trajan."

He is such a sweet boy and such an affectionate, playful pup.

He has explored the house and the yard, and particularly likes to nap on the sofa, using me as a pillow.

I can hardly believe how well behaved he is.

He walks very calmly on a leash and follows me everywhere in the house and yard when we are out there.

He loves to play with any kind of toy, and it is hard to believe that he can play so hard and be so quiet!

It is so endearing to see the way he responds to us after such a short time.

I really love puppies, but it is going to be very exciting to watch him grow and see what a beautiful dog he turns out to be.

We got "Trajan" all spruced up for a formal portrait and wanted to share it with you.

Suzi

"Cougar" as a Puppy, is second from the left
(He is a rare Blue Brindle Boston/Mantle)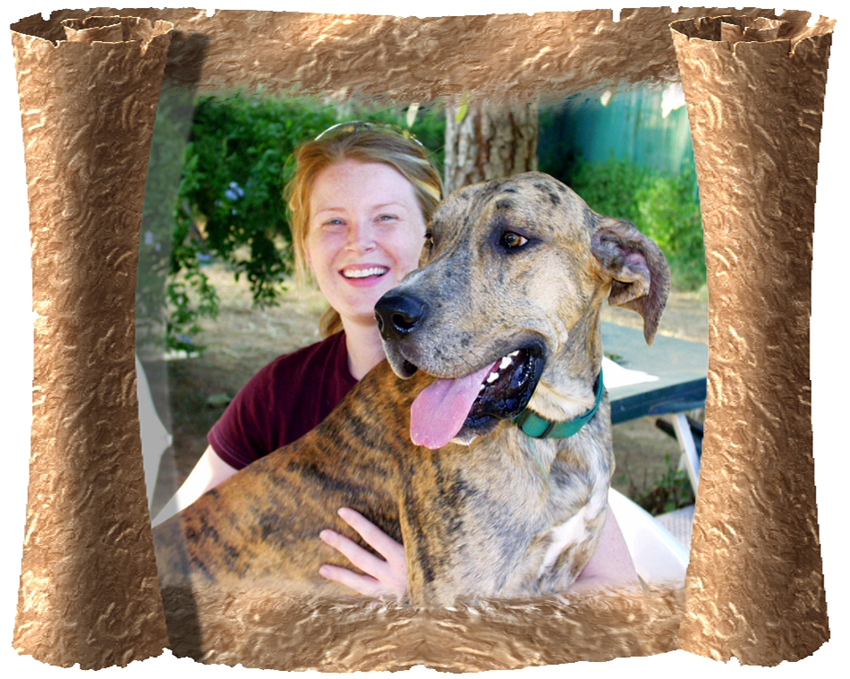 "Cougar" all grown up, sits in the lap of his new Mom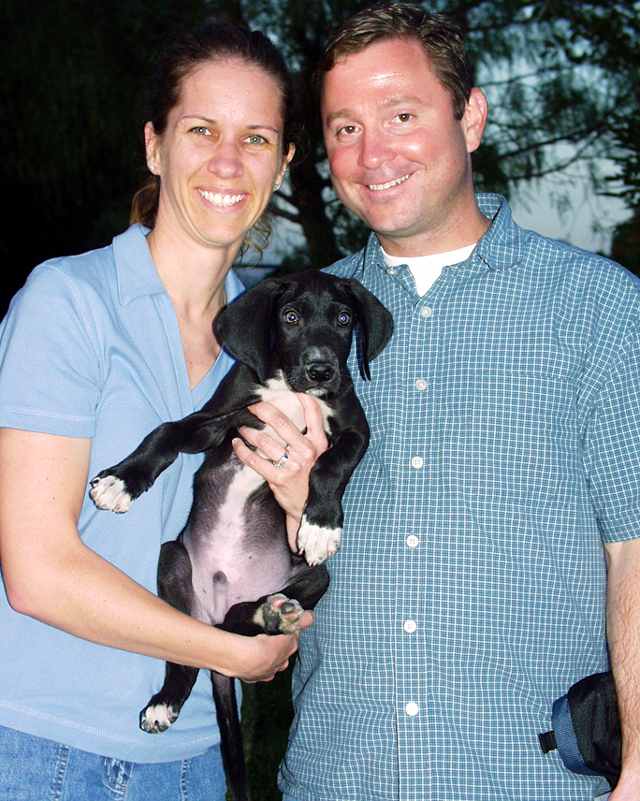 Proud Parents Danette and Tim
pose with their new Baby "Zeus"
("Zeus" is a Black Boston/Mantle Puppy)




A 4-legged one!

His name is "Zeus" and he's an 11 week old Great Dane!

We adopted him from Tracy and Burt Ward's "Gentle Giants Rescue and Adoptions" in Norco, California on May 8th.

He's a bundle of energy . . . sometimes, a total brat, but he's been great!

Oh, and he's got Tim's eyes!

Attached are some photos of our son!

Love,

Danette and Tim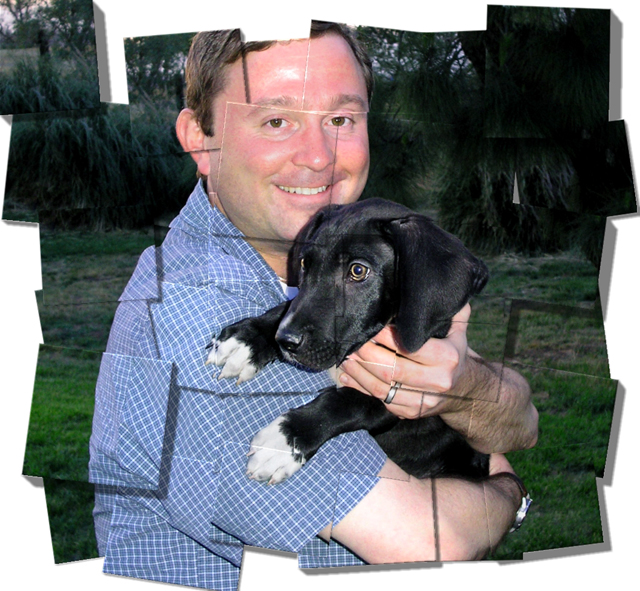 "Zeus" and Tim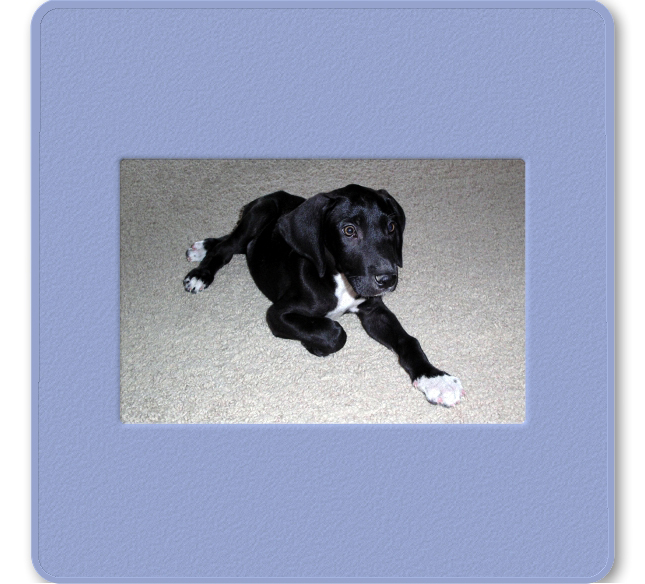 "Zeus" lounges on a soft carpet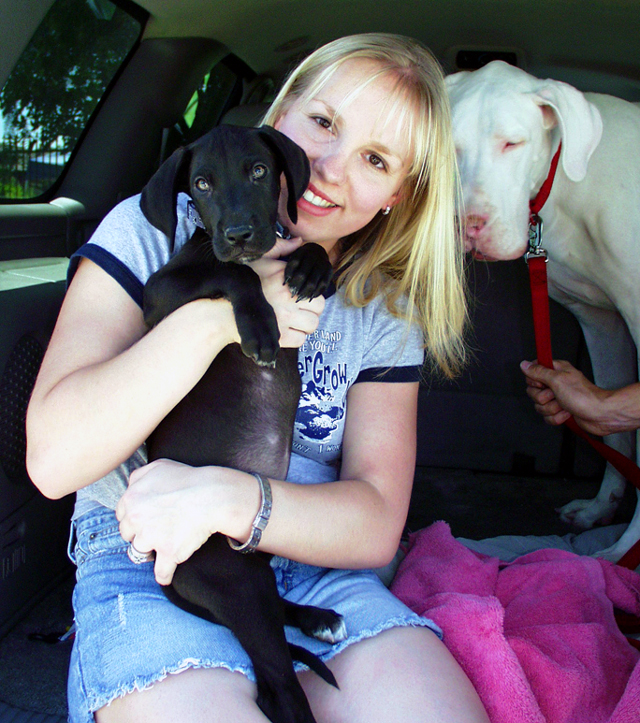 Black Puppy is held by her new Mom with "Gunther" close by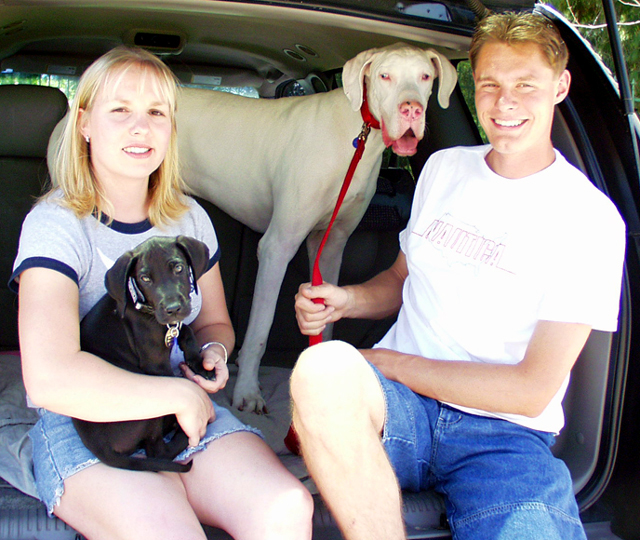 Black Puppy joins "Gunther" and a new Family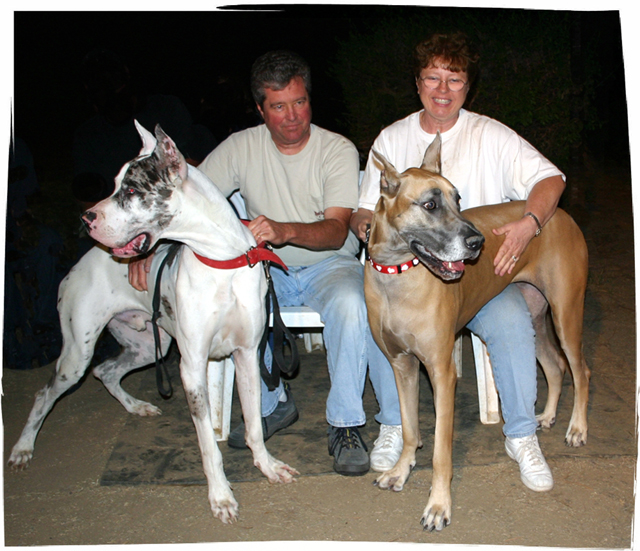 Dynamic Duo of Danes with their new Parents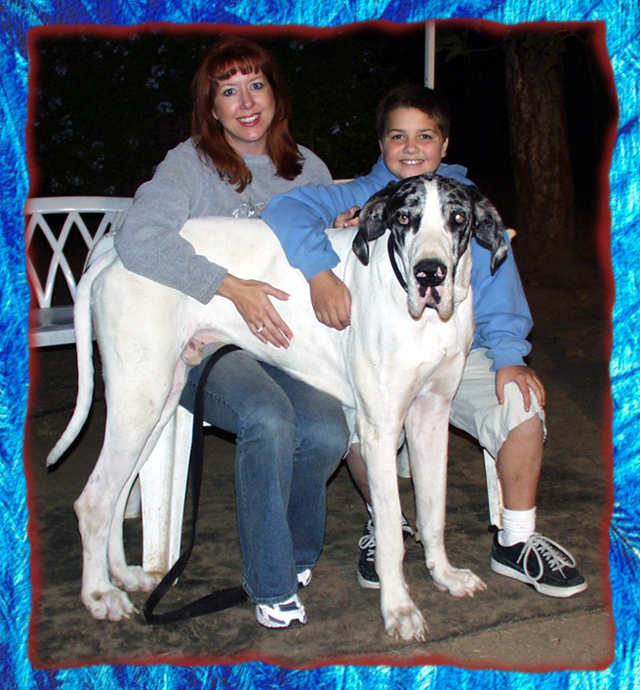 Giant Great Dane "Gibson" poses with his new Family

Hi Tracy and Burt,

As you know, after adopting our first Dane from you, "Zoe", we came back out this weekend to add to our ever expanding family.

We adopted "Sire" (whose name we changed to "Gibson") and once again we couldn't be any happier.

He came home Saturday evening and has already stolen all of our hearts.

He is as mellow and well behaved as "Zoe" thanks to your talent and dedication.

But, he is also just an absolute cuddler.

I've attached a couple photos below, wait 'til you see him sleeping with my son!

It was wonderful to see both of you and 'the herd' again.

I really just wanted to tell you again how much we appreciate all that you do for these amazing Gentle Giants.

Your hard work and dedication is very apparent.

Once again, I was pleasantly surprised with the whole operation.

The fact that there are almost 50 dogs there, and yet, not a single bark was heard throughout our visit.

The grounds are clean and well maintained with no visible 'droppings' or odor.

And the dogs are happy and content (definitely not like many rescues that we've been to).

All the dogs are so very well behaved, even when there are a dozen or more coming out together to meet and greet the prospective "parents."

They're calm and willing to wait their turn for some scratches and loving.

I'm just so impressed with what you accomplish there.

Having raised a puppy before, I know what kind of time and dedication is required to make them into healthy, happy, good citizens.

And that was just one at a time . . . not 50!

I can't fathom the labor of love that goes on there every day.

Anyway, "Gibson" is such a beautiful and super boy!
Thank you so much!

Karen Coyne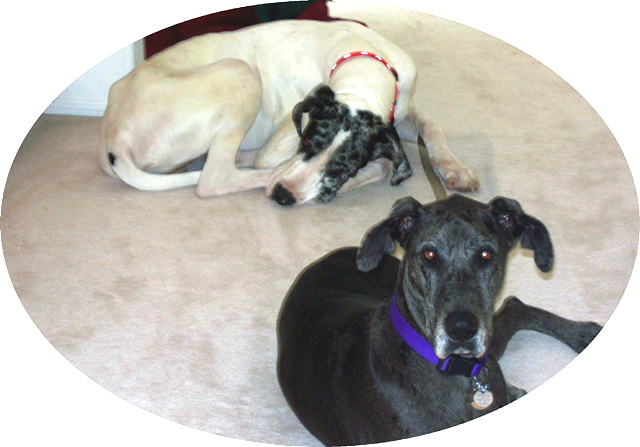 "Zoe" relaxes while "Gibson" sleeps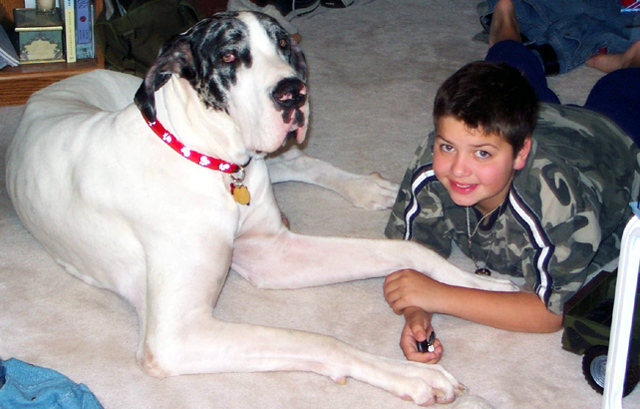 "Gibson" lounges with his new Brother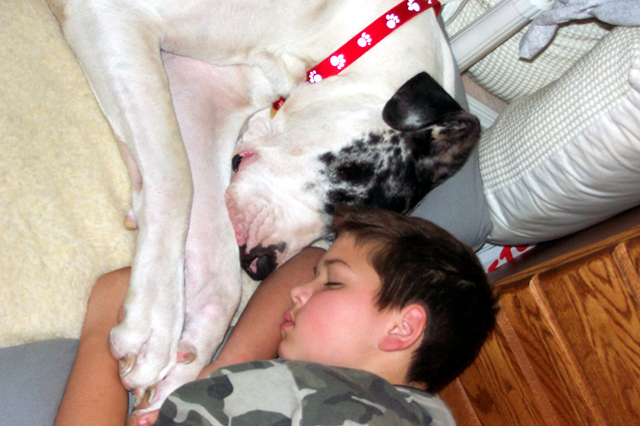 "Gibson" cuddles and naps



COME TO ADOPT YOUR PERFECT FAMILY MEMBER!
MEET AND ADOPT A BEAUTIFUL GREAT DANE!


YOU CAN AS MUCH AS DOUBLE THE LIFE SPAN OF YOUR DOG!
OUR DOGS ARE LIVING AN AVERAGE OF TWICE THEIR NORMAL LIFE SPAN!


For Unconditional Love - Adopt One Of Our Dogs!

CLICK BELOW TO ADOPT A GENTLE GIANT OR LITTLE GIANT!

WE HAVE THE LARGEST SELECTION OF GIANT BREED DOGS IN THE WORLD

LEARN ABOUT
OUR RESCUE
MEET THE BREEDS
THAT WE RESCUE

OUR DOGS
FOR ADOPTION

WATCH OUR
HOME VIDEOS

WHAT OUR HAPPY
ADOPTERS SAY

ADOPTION
APPLICATION

Our Family

Why Are Our Dogs living TWICE Their Normal Lifespan?

CLICK BELOW TO READ HOW OUR FEEDING AND CARE PROGRAM AND
ALL NATURAL GENTLE GIANTS DOG FOOD CAN EXTEND YOUR DOG'S LIFE!



WATCH OUR TV SPOT
SEE OUR DOGS AT HOME

DOUBLING THE LIFE SPAN OF YOUR DOG!

WATCH HOW WE FEED OUR DOGS


ALL NATURAL GENTLE GIANTS DOG FOOD

WHERE YOU CAN BUY GENTLE GIANTS

ORDER GENTLE GIANTS
DOG FOOD



Our all natural Gentle Giants dog food is available in retail stores



Great Danes




Borzoi




Great Pyrenees




Saint Bernards




Newfoundlands




English Mastiffs




American Mastiffs





Neapolitan Mastiffs




Dogue de Bordeaux
French Mastiffs



Bullmastiffs



South African
Boerboel Mastiffs


Tibetan Mastiffs



Fila Brasileiro
Brazilian Mastiffs

Tosa Inu
Japanese Mastiffs


Adronicus Mastiffs




Spanish Mastiffs




Leonbergers




Irish Wolfhounds




American Staghounds




Scottish Deerhounds




Greyhounds




Saluki




Ibizan Hounds




Whippets




Silken Windhounds




Sasquatch




Akbash




Maremma Sheepdogs




Bernese Mountain Dogs




Bloodhounds




Doodles, Woodles




Poodles, Labradoodles




Exotic Breeds




Peruvian Inca Orchids




Unique Combinations




Shelties





American Eskimos





English Bulldogs




Xoloitzcuintle





Chinese Cresteds




Italian Greyhounds




Little Giants Combinations




Gentle Giants Buddies




Hard of Hearing Dogs




Blind Dogs



COME VISIT OUR GENTLE GIANTS STORE
GREAT GIFTS, GEAR, APPAREL, JEWELRY AND FUN STUFF
FOR PETS AND THE PEOPLE WHO LOVE THEM!


WELCOME TO GENTLE GIANTS THEATER AND MEDIA CENTER
ENJOY OUR TV SHOWS, RADIO INTERVIEWS AND NEWS ARTICLES ABOUT OUR RESCUE, OUR DOGS AND HOW WE HAVE THEM LIVING SO LONG!

CLICK BELOW TO ENTER OUR GENTLE GIANTS STORE

AND SHOP TO YOUR HEART'S CONTENT!

COMING SOON
| | | |
| --- | --- | --- |
| Gentle Giants Dog Food | Gentle Giants Beef Liver Treats | Gentle Giants Chicken Liver Treats |